---
Did You Know? 
Most people never manage to achieve the results they want because they are not hitting their muscles properly by a lack of understanding of how to actually perform the exercises.
Now there has never been such a better, affordable solution like the one we got here.
Engage Ab Muscles & Get Faster Results
All the determination in the world for a nice summer body means absolutely nothing if you're not doing workouts & exercises properly. And it can be tough!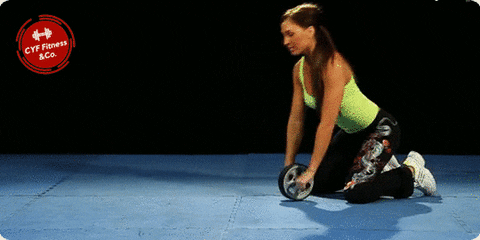 Why You Need It?
Double Ab Wheel
-
The 2 wheel provide you with excellent stability and balance, allowing unrestricted movement for a more intense workout.
Superior Material
 -
The Ab Roller wheel is made of strong stainless steel, non-slip rubber and durable PVC. High quality stainless steel framework and strong synthetic rubber base, which offer the ab wheel 600lbs maximum load-bearing and comfort and Never damage carpet or wood floor.
Easy To Assemble
-
Portable and easy to use. Just unpack, insert the handle into the wheels and slide extra grip on. Take it apart to fold flat for traveling.
Core Training - The Ab Roller wheel builds muscle density and sculpts abdomen, waist, back, shoulder, arm & core, effectively exercise the muscles and joints, help to full body workout and lose weight.

Great For All Fitness Levels
 -
Ultra lightweight and easy to assemble allows you to achieve your fitness goals wherever you are. No matter if you are at home or gym, start your journey at any time. Comes complete with assembly instructions and FREE foam Mat.
Benefits:
- Ultra-comfortable hand grips
- Strengthens arms and shoulders
- Helps sculpt and tone abdominals
- Safe and effective home workouts
- Single non-slip rubber wheel design for stable, smooth and fluid movements
- Small, lightweight and portable. Take this with you everywhere you go. Easy to Use
- Convenient and easy-to-use. It strengthens your core, burns calories and tones your abdominals. The wheel features non-slip rubber and grips any floor surface. The ab wheel is made of stainless steel to ensure long-lasting durability. And features padded handles for a comfortable grip.

Recommended Training Plans:
1. Kneeling posture (suitable for the beginners):
Kneel down on the pad, and hold your hands tightly on the foam handles, then roll forward until your torso and arms are fixed and then roll back.
2. Standing posture (suitable for the exercise experts):
Keep your legs straight, bend your waist and hold your hands tightly on the foam handles, then roll forward until your torso and arms are fixed and then roll back.
Why To Shop From Us?
✅ CYF Fitness™ Original Design
✅ Free Worldwide Shipping
✅ Stringent Quality Control
✅ 20% OFF Your Next Order
✅ 10,000+ Satisfied Customers
WHY SHOULD YOU ACT TODAY?
Due to an unforeseen high global demand paired with the impact of the pandemic on our manufacturing facility, our inventory is depleting faster than our current production.
To avoid restocking delay issues, act fast by clicking the "Add To Cart" Button and your order will be reserved with us with Free Shipping.
RISK-FREE PURCHASE
At CYF Fitness™, we strive to ensure that all our customers will receive full value and have an enjoyable shopping experience. We offer the most secure Global Payment Gateways such as Paypal and a 24/7 Customer Support ready to answer any queries and support that you may need.
We are 100% committed in providing you with the best shopping experience. If you are not satisfied with your purchase, just send us an email and we will give you a Stress-Free Refund within 30 days from your purchase for guaranteed customer satisfaction. 
We manage Express deliveries via USPS Parcel Select Ground® 
for a little extra 
cost, delivery time will take 
from
2 to 8 Business days 
(Available only in U.S).